Nottinghamshire sees third lottery win of 2012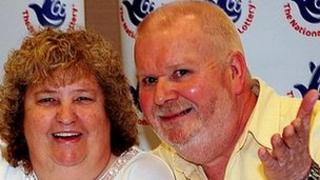 A Nottinghamshire couple - the third in just over three months - has won millions in a lottery draw.
Jim Emerton, 56, and his wife Maureen, 55, from Carlton in Nottingham, scooped £4,449,039 after matching all six numbers in Saturday's domestic Lotto.
In February, Cassey Carrington and Matt Topham, both 22 and from Stapleford, won £45.1m playing EuroMillions.
Just two weeks earlier Gareth and Catherine Bull, from Mansfield, banked £40.6m.
And like the previous two winners in the county, Mr and Mrs Emerton won on a Lucky Dip ticket.
'Trick ticket'
It was Mrs Emerton, a housewife, who first realised they had won, but her husband thought she was playing a prank on him.
"I said 'You're not going to believe me but we've got every number'," she told the news conference.
Mr Emerton continued: "Now, we're approaching April 1 at this time. I said to her 'How have you done this?' Because I thought it was a trick, I thought it was a trick ticket.
"The more she said it, the more I didn't believe her because she didn't seem that excited.
"She said it was because she just couldn't believe it."
Mr Emerton, who works in a car factory, said he was going to take early retirement and his wife said they were looking forward to "plenty of breakfasts in bed".