Nottingham Workplace Parking Levy to bring in £2m less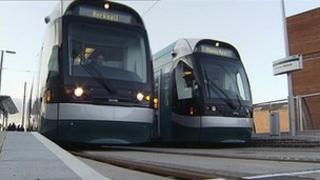 Nottingham's Workplace Parking Levy will not raise as much money as expected in its first year, officials have admitted.
The charge means businesses with 11 spaces or more will have to pay £288 a year for each, rising to £380 by 2015.
It comes into force on 1 April, but the city council has said fewer spaces will be chargeable than expected, meaning it will raise £8m rather than £10m.
But officials said they expected income to meet targets over time.
Employers have licensed 45,500 spaces at more than 3,000 premises around the city.
Of these, the council said 28,000 will be fully chargeable, which is thousands down on the figure for previous estimates, with the remainder qualifying for a discount.
Business fears
The city council said it still expected to meet its target over the 23-year period of the levy, generating an average of £14m a year.
But the levy has been opposed by many businesses who claim it is an unnecessary expense during tough economic times.
Graham Page, depot manager at lorry servicing centre Keltruck, said they were considering moving the firm.
"It is like having a 20% hike in business rates - so if you can imagine having to take that cost with no benefit.
"The council is here to represent the people of Nottingham and I don't think it is doing that, I don't think they have taken into account how we feel about it."
Jane Urqhart, who is in charge of transport for Nottingham City Council, said the shortfall was not a major problem.
"We always knew in our financial modelling that things might not work out exactly as we thought.
"That's why we said it would bring in, on average £14m a year across the life of the scheme, so we are confident that will still be achieved."
'Disproportionate' levy
She also backed the levy to boost the city as a whole: "I think it's positive because it enables us to make that huge half-billion pound investment in our city and in our economy.
"Because we know that improving the station and building two new lines of the tram have been two of the highest priorities that businesses have talked to us about."
George Cowcher, from the Derbyshire and Nottinghamshire Chamber of Commerce, said that while good transport was a priority, the levy was unequal.
"Those businesses which are city centre based, which perhaps don't have as many parking spaces, who are going to benefit hugely from the improvements in public transport, they are paying very little towards this.
"It is the businesses right on the edge of the city, who are perhaps far less well served by public transport, which are having to pay a disproportionate amount of this tax."