Food-fear boy Daniel Harrison to get more treatment abroad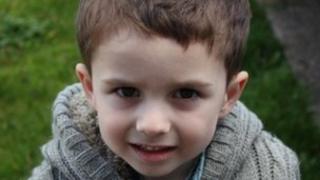 The family of an autistic Nottingham boy who has not properly eaten food for five years hope further treatment abroad will help cure him.
Five-year-old Daniel Harrison has a fear of consuming food after he suffered from acid reflux as a baby.
In 2011, his family raised £25,000 for treatment at a specialist Austrian clinic which helped Daniel to accept liquid food orally.
The NHS has agreed to fund further therapy in Austria worth £6,000.
The treatment is designed to encourage Daniel to take both food and liquid.
It is hoped, when they return, Daniel will be able to consume some sort of food, even if it is a puree.
Before Daniel went to the clinic in Graz, he had to be fed through a tube in his stomach and would also not allow his parents to brush his teeth.
'Dark places'
Kevin Harrison, Daniel's father, said: "Because of Daniel's autism it makes him worse, it makes him think something is trying to hurt him, so his instinct is 'no'."
After one month in Austria he allowed his parents to feed him a milk solution, with a special cup.
He also drinks water which has prevented him from dehydrating.
Mr Harrison said the public's help was overwhelming when he was raising money last year but admitted it has been tough for him and his family.
"I was in some really dark places at times," he said.
During one day in Graz he had to restrain a screaming Daniel, while syringing liquid into his mouth.
"I've become very strong-minded, strong-willed and now it's not a question of when he will eat, it's a question of how soon he will eat," he said.
Following the family's first self-financed trip, Mr Harrison said he had convinced the NHS to pick up the cost of the second round of treatment, but the family will have to pay for flights and accommodation.
He said: "I have tangible proof it [the last course of treatment] worked, in theory it saved the NHS money.
"We don't use a £2,000 feeding chair anymore, no special syringes or transport costs."
A spokesperson from NHS Nottinghamshire County said: "We are committed to improving the health and wellbeing of the people of Nottinghamshire.
"We are unable to comment on individual cases."
Daniel, his father, his mother Catherine, and sister Hannah, will return to Graz on 12 August for two further weeks treatment.