Nottingham teachers strike over change to term dates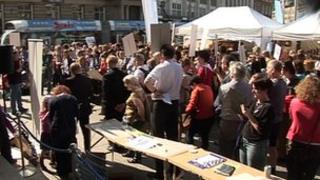 Teachers in Nottingham have held a one-day strike over proposed changes to school terms.
Members of the National Union of Teachers (NUT) are unhappy at plans to switch to a five-term academic year with a shorter summer break.
Nottingham City Council said the move would boost attainment but teachers view the change as disruptive.
The authority has published alist of about 60 schoolsthat are affected by the walkout.
The five-term system - with a shorter summer holiday but fortnight breaks in May and October - will help pace pupils' education and ease childcare issues in the summer, the council has said.
Survey disputed
But the NUT said there was no evidence it would help pupils and claimed it could cause problems with county schools being on a different system.
Earlier talks to avert the strike ended without agreement and two further walkouts are scheduled next month.
A survey of governors by the City of Nottingham's Governors Association found more than 81% were against the change.
The city councillor responsible for education, David Mellen, said they had carried out their own consultation.
"What is surprising is that when we asked far more people than the 170 involved in that survey we got a more balanced view," he said.
"Governors were still against but the split was more like 55% to 45%."
Holiday clash
Jenny McGavin, head teacher at Berridge Infant School and Nursery, said: "No other authority in the country is doing it and that means that, in terms of recruitment, it is going to make a massive difference.
"I don't think the five term year will make a positive difference to the attainment and achievement of the children - there is no proof."
Louise Regan teaches in a school in the north of the county but her daughters go to city schools.
"I would be looking at finding additional child care for when they were on holiday and I was at work," she said.
"But also, since my holidays are dictated by my employer, I would have to take them out of school for our holidays to see family."