Professor Kevin Shakesheff's 125-mile kayak quest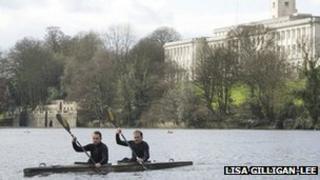 A Nottingham professor is planning to kayak 125 miles (200 km) along the River Thames to raise money for research into children's brain tumours.
Kevin Shakesheff, 42, and colleague David Bache will start in Devizes, Wiltshire, and finish at London's Westminster Bridge.
The University of Nottingham duo will also carry the vessels for 13 miles (20.9 km) to avoid river obstacles.
It will take about 24 hours to complete. They start on 6 April.
Prof Shakesheff said he had been kayaking 80 miles a week during training, including throughout the night.
'Freezing cold'
He said: "Not only is the kayak wobbly, but at night it is difficult to balance because you can't see the water and you lose your natural balance because you're unable to see the horizon.
"There have been lots of bad experiences while training, particularly falling in when it is absolutely freezing cold.
"We've had quite a mild winter but there were times in January and February when the canal got really close to freezing over and we fell in a lot."
Prof Shakesheff and Mr Bache hope to raise £2,000 for the Children's Brain Tumour Research Centre at the University of Nottingham.
According to the centre about 450 children in the UK are diagnosed with a brain tumour every year and survival rates are among the lowest in Europe.
The centre works to improve diagnosis and treatment, as well as raising awareness of brain tumours.
"We wanted to do something that's in part based on drug treatment, said Prof Shakesheff.
"We have a fantastic clinical and research centre at the Queen's Medical Centre doing work that's leading to better drug treatment, major clinical trials, research for diagnosis and treatment of brain tumours and we wanted to support that."