Nottingham school term NUT strike talks fail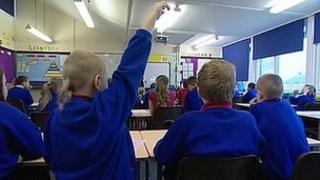 Talks to avert a strike by teachers in Nottingham have ended without agreement.
Members of the National Union of Teachers (NUT) are now expected to walk out on Thursday.
The dispute is over city council plans to switch to a five-term academic year, which they claim will boost attainment but teachers view as disruptive.
The authority has said it expects18 schools to be closedwith others facing disruption.
The five-term system - with a shorter summer holiday but fortnight breaks in May and October - will help pace children's education and ease childcare issues in the summer, the city council has said.
But the NUT responded that there was no evidence it will help pupils and will cause problems with county schools being on a different system.
'Democratic decision'
NUT Regional Secretary Ian Stevenson said the council was concerned about "learning loss" - where children forget some of what they learn at school over a summer break - identified in American research.
"We think the pattern of summer holiday that we have got benefits both pupils and teachers, and really what (the council) wants to do is shorten that holiday to four weeks," he said.
"But it seems to be an article of faith for them that they have to implement this because of the research which has been carried out in America, which has a 12-week break."
The city councillor responsible for education, David Mellen, said they were still talking to teachers and parents.
"We made a democratic decision based on research and a consultation and we are continuing to talk about the effects of this.
"We know that for some teachers who live out of the city but teach here and have children in other authority areas it will be difficult."