Attenborough Nature Reserve reports record number of nesting herons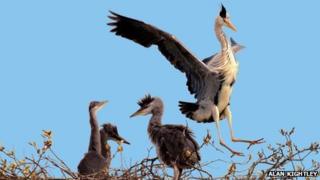 Habitat improvements have led to a record number of nesting grey herons at a Nottinghamshire nature reserve.
Nottinghamshire Wildlife Trust, which manages the Attenborough Nature Reserve, has reported 40 heron nests this year.
This is almost double the normal 20-25 nests recorded since the herons began nesting on the reserve in 2007, said assistant manager Tim Sexton.
He believes it is now the largest active heronry in the county.
Mr Sexton said: "As a top predator in the freshwater foodchain grey herons can only thrive if there is an abundance of prey.
"In previous years the nests had been scattered along the Trent, recorded as far away as Highfields Park on University Boulevard."
He added that by monitoring the birds through the heronry census the reserve was able to gather valuable information about the quality of the wetland habitat.
The trust has also reported sightings of kingfisher and bittern on the reserve, as well as a mallard using a heron's nest to incubate her eggs.