Firefighters honoured over Nottingham house explosion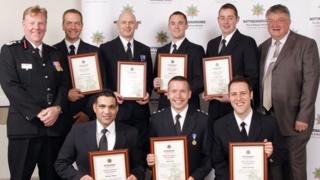 Four firefighters have been awarded the Queen's Gallantry Medal for risking their lives to save a man and woman in a house explosion.
Sandra Shaw and her partner Alex Kirk both lost limbs and their eyesight in the gas explosion in Nottingham.
Firefighters were on their way to another emergency call at the time.
They stopped and went into Ms Shaw's house in Stockhill Lane, Basford, despite the risk of further explosions and the building collapsing.
They carried the couple out so they could be treated by paramedics.
The medals were awarded to Andrew Alexander, 38, Sanjeev Mohla, 34, Daniel Wareham, 28, and Matthew Willis, 29, at Buckingham Palace.
The Queen's Gallantry Medal is one level below the George Medal.
Nottinghamshire's Chief Fire Officer Frank Swann said: "This was an extraordinary act of bravery.
"At that early stage of an explosion anything could have happened, but they put concerns for their own safety aside and focused completely on rescuing the injured."
A spokesman for Nottinghamshire Police said the cause of the explosion, which happened in July 2010, has not been established and the investigation remains open.
The four firefighters - together with crew manager Jonathan Wilson, crew manager Gary Hodgkins and station manager Chris Clark - have already received the Chief Fire Officer's Commendation for their response to the explosion.