Sneinton's Victoria Leisure Centre officially reopens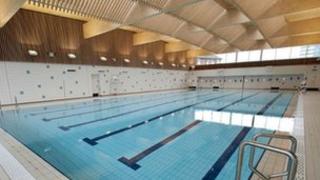 A 100-year-old Nottingham leisure centre will be officially re-opened later after a £9m refit to modernise it.
Work started at the Victoria Leisure Centre, in Sneinton, in 2010.
Hundreds of people marched through the city in 2008, in protest over possible closure plans by Nottingham City Council.
Former Olympic gold-medallist swimmer Duncan Goodhew will join Councillor Cat Arnold to unveil a plaque.
New facilities include a six-lane, 25m swimming pool, a fully equipped gym and a separate children's splash area.
Part of the centre, the Danielle Beccan Suite, has been dedicated to the memory of the Nottingham teenager who was the innocent victim of a drive-by shooting, in 2004.
The council said it was delighted with the high level of interest since the leisure centre opened to the public on 5 March.