BBC Radio Nottingham's Big Day Out back for fourth time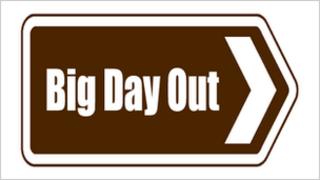 Many museums across Nottinghamshire are offering free entry to their exhibits on 22 April.
They are taking part in BBC Radio Nottingham's Big Day Out, a celebration of the county's history and heritage.
BBC Radio Nottingham's breakfast presenter Andy Whittaker is behind the idea.
He said: "All the attractions taking part want to show you what they have to offer, so all you have to do is decide where to take your family."
He added: "This event is a celebration of Nottinghamshire's history and heritage and it's all free."
It is the fourth time that the station has held a Big Day Out with thousands of people getting involved each year.
Places taking part include the DH Lawrence Birthplace, Nottingham Castle, Newark Air Museum, City Of Caves and Calverton's Iron Age Roundhouse.
All the venues involved are offering free admission in some form. Please check carefully the details below for each attraction as in some cases you will need a print out of this page, or to book in advance.
The Workhouse, Upton Road, Southwell, Nottinghamshire NG25 0PT *** VOUCHER NEEDED ***
This building lets you discover how society dealt with poverty through the centuries. Explore the segregated work yards, day rooms, dormitories, master's quarters and cellars, then see the recreated working 19th-century garden and find out what food the paupers would have eaten at the Southwell Workhouse, the most complete workhouse in existence. You will need a voucher to gain free entry which is available here .
Calverton Folk Museum, Main Street, Calverton, NG14 6FG
This is one of Nottinghamshire's smallest museums highlighting the local origins of the hosiery industry as well as Victorian/Edwardian Calverton, with four rooms exhibiting period furniture and costume. There is also an actual framework knitting machine on display. This is your chance to see the museum after its renovation work in recent months. It will be open from 14:00 until 17:00 BST on Sunday, 22nd April 2012.
City Of Caves, Drury Walk, Upper Level, Broadmarsh Shopping Centre, Nottingham NG1 7LS *** PRINT OUT NEEDED ***
Discover a hidden world beneath your feet underneath the streets of Nottingham. Explore original sandstone caves with tours at 10:30, 11:00, 15:30 and 16:00 BST. Up to 20 free places are on offer on each tour and are subject to availability. You will be taken on an archaeological journey under the cobbles of some of Nottingham's most famous streets and up through Drury Hill. Discover how Nottingham dwellers once lived and learn about their journey through the ages.
D.H. Lawrence Birthplace Museum, 8a Victoria Street, Eastwood, NG16 3AW *** PRINT OUT NEEDED ***
This is where David Herbert Richards Lawrence was born in 1885 and is the first of the Lawrence family's four Eastwood homes. Through a guided tour you will be able to learn about his family life and the type of working class home and mining family that shaped his formative years. The venue is open on the Big Day Out from 11:00 until 17:00 BST. For more information call (0115) 9173824 or (01773) 717353.
D.H. Lawrence Heritage Centre, Mansfield Road, Eastwood, NG16 3DZ
This centre offers an exhibition on D. H. Lawrence and the local area's proud mining history. As a boy Lawrence would pick up his father's wages from this impressive building, which was the offices of the local coal owners, Barber, Walker & Co. The centre is open 10:00 until 17:00 BST on Sunday, 22nd April 2012. For more information call (01773) 717353
Flintham Museum, Inholms Road, Nottinghamshire NG23 5LF
This museum looks at rural life through the eyes of a village shopkeeper. The shop window display this year highlights Jubilees and games. Samples of the types of cakes available in 1952, with recipes to take away, will be available. Behind the museum there is a community shop so visitors will be able to see and talk about the differences in shopping over the last 100 years. There is a modern weather installation behind the community shop and visitors will be invited to record the day's weather and perhaps make comments about changes in global warming and local weather patterns. The museum will be open 11:00 to 16:00 BST.
Galleries of Justice Museum, The Lace Market, Nottingham, NG1 1HN *** PRINT OUT NEEDED ***
The Galleries of Justice Museum is home to the Villainous Sheriff of Nottingham and is the only Museum of its kind in Europe. Based at Nottingham's old county gaol the Museum portrays Nottingham's horrible history and crime and punishment through the ages in a fun and interactive environment. Many tours are actor led making the Galleries of Justice Museum appeal to all ages. You will witness and sometimes even be put on trial in the Victorian Court room before being sent down to the original prison cells, dungeons and caves where your sentence awaits you! Free admission is available for the tours at 10:30, 11:00, 15:30 and 16:00 BST. There are 20 places on each tour.
Green's Windmill and Science Centre, Windmill Lane, Sneinton, NG2 4QB
The windmill was built by the father of notable scientist and mathematician George Green in 1807. Many of our technologies today, such as mobile phones, are based on Green's amazing ground-breaking theorem. Today the still-working mill is a popular museum and science centre, which teaches new generations of children about the valuable work of George Green. The centre is open 10:00 - 16:00 BST and as part of National Science Week go along and see for free some hands-on science experiments! For more information call 0115 9156878.
Iron Age Roundhouse, Woodview Farm, Mansfield Lane, Calverton, Nottingham NG14 6HP
The Roundhouse was built in 2006 as a research project looking at construction methods using the same tools, timber and building materials that were originally used over 2,500 years ago. Once completed it became apparent that the house had a second function as an educational resource complementing traditional classroom teaching methods. The inside is set out to illustrate how an extended family of between 12 to 20 people would have lived and worked together. The Roundhouse will be open between 13:00 and 16:00 BST on the Big Day Out. There is no need to book.
Laxton Heritage Museum and Village Tour, Main Street, Laxton, NG22 0NX
Join Stuart Rose on a guided tour of Laxton village and its agricultural heritage. There will be a chance to see the introductory film which talks about the unique three field crop rotation system in the open field strips and the vital role of the Court Leet and Jury in its management. There will then be an opportunity to walk through the village and at least one of the open fields and to see Laxton's motte & bailey castle as well as the Heritage Museum. The length of the walk will be agreed by the group but will not be less than two hours total and walkers need to be able to manage a minimum of 800m off road on uneven ground and to wear suitable footwear / bring waterproofs. The film commences at 10:00 BST departing from the Laxton Visitor Centre in the car park of The Dovecote Inn. For further information and to book in please call Stuart on 07939 228353 or just arrive on the day.
Museum of Nottingham Life at Brewhouse Yard, Castle Boulevard, NG7 1FB
The museum is housed within five 17th century cottages. Here you can learn about the people of Nottingham through the objects made, used or owned and the stories they tell us. Brewhouse Yard is at the base of Castle Rock, a location that itself reveals much about Nottingham's social history. The museum is open 10:00 - 17:00 BST. For more information call 0115 915 3600. Admission is free for BBC Radio Nottingham's Big Day Out but you must take a print out of this page.
Newark Air Museum, The Showground, Winthorpe, Newark, Notts, NG24 2NY *** PRINT OUT NEEDED ***
Located on part of the former World War Two airfield at Winthorpe in eastern Nottinghamshire. There's a diverse collection of aircraft and cockpit sections covering the history of aviation. The aircraft on display include ten national benchmark aircraft, 29 significant aircraft and 18 noteworthy aircraft as listed in the National Aviation Heritage Register. Open 10:00 - 17:00. Admission is free for BBC Radio Nottingham's Big Day Out but you must take a print out of this page in order to get in
Newstead Abbey, Newstead (off the A60), Nottinghamshire NG15 9HJ
The Abbey was founded as a monastic house in the late 12th century, and to this day the house retains much of its medieval character. The most famous survival is the iconic West Front of the church that dates from the late 13th century and is now a scheduled ancient monument. Inside the house the medieval cloisters, Chapter House (now the Chapel) and a collection of medieval stone carvings and manuscripts enable visitors to discover the Abbey's early history. Free entry to the house between 1 - 3pm when you can look around the house on your own, rather than being taken on a guided tour. If you come by car, parking charges now apply which include admission to the grounds but pedestrians and cyclists enter for free.
Nottingham Castle Museum, Off Friar Lane, Off Maid Marian Way, Nottingham, NG1 6EL
A magnificent 17th century ducal mansion built on the site of the original medieval castle has a vibrant museum and art gallery housing collections of silver, glass, decorative items, visual arts, paintings and Nottinghamshire archaeology and history. Open 10:00 - 17:00 BST. Last admission 16:30. For more information call 0115 915 3700. Admission is free for BBC Radio Nottingham's Big Day Out but you must take a print out of this page.
Papplewick Pumping Station, Rigg Lane, Ravenshead, NG15 9AJ *** PRINT OUT NEEDED ***
This is the site of Britain's finest Victorian Water Works and the only one in the Midlands to be preserved as a complete working water pumping station. Papplewick Pumping Station was built between 1882 and 1884 to supplement the water supply for the growing city of Nottingham. Admission is free on the Big Day Out only to those with a print out of this webpage.
Stonebridge City Farm, Stonebridge Road, St Ann's, NG3 2FR
The farm will have all the usual attractions available, including animal feeding, small animal holding, kiddies play area, picnic area and farm shop. Admission is always free. The farm will be open from 10:00 to 15:00 BST.
William Booth Birthplace Museum, Notintone Place, Sneinton, Nottingham NG2 4QG
The founder of the Salvation Army, William Booth, was born at No12 Notintone Place in 1829. The museum based here was enlarged by extending the museum space on either side and totally refurbished and redesigned in 2010-11. The birthplace is open 09:30 to 12:00 BST for the Big Day Out.
Wollaton Dovecote Museum, Dovecote Drive, Wollaton, NG8 2NB
The museum on Dovecote Drive, off Bramcote Lane in Wollaton was built circa 1565 to house the doves for Wollaton Hall. There are no doves still there now, but this interesting building is a small two storey Elizabethan dovecote, with many nesting sites still in situ. The museum is opening especially for the Big Day Out, and will be open between 14:00 and 16:00 BST. For more information call Marilyn on 0115 9285055. Please note there are no facilities at the museum, and it could be cold.
Wollaton Hall Natural History Museum, Nottingham, NG8 2AE
Set inside an Elizabethan mansion located in a 500 acre deer park. Daily tours of the hall give you a chance to see behind the scenes, such as the Tudor kitchens or the beautiful Prospect Room with views over the natural landscape. Stylish courtyard café on-site. Car Parking charges apply. For more information call 0115 915 3900.