Man loses toe in Nottingham escalator accident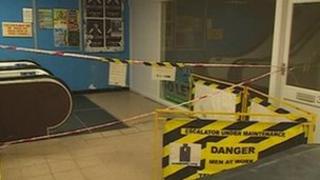 A man has lost a toe after his foot was trapped in a shopping centre escalator in Nottingham.
The man was taken to Nottingham's Queen's Medical Centre for treatment after the accident on Thursday, East Midlands Ambulance Service said.
Nottingham City Council's Environmental Health section has closed down the escalator at the West End Arcade and started an investigation.
An eyewitness said the man was "screaming in agony".
'Lost blood'
Record shop owner David Rose said the man was trapped for about 25 minutes. He said: "I realised he was in a lot of pain - he was trapped and people were trying to cut him free."
Nuri Zeglm, owner of Safari Shoes, said: "We heard some screaming for help - and we saw a man on the escalator with about three people trying to help him."
Mr Zeglm said the man was in his 20s and someone was holding his hand to comfort him.
"Somebody had stopped it but he couldn't get his foot out. He was screaming in agony," he added.
A Nottingham City Council spokesman said the area around the escalator at the arcade on Upper Parliament Street would remain cordoned off until the investigation was finished.
A fire service spokesman said: "The firefighters did not release him, but they did help to stabilise him until the paramedics arrived.
"He had lost quite a lot of blood so he was given first aid to help stop the bleeding."
Eyewitness Troy Bartholomew, who works at a barber shop in the arcade, said: "He was screaming - and a friend of mine went to help him."
He added: "The escalator is well maintained - they come at least once a month to maintain it."