Sex offenders at HMP Whatton in pilot drugs trial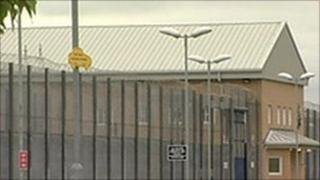 Some British sex offenders are being treated with drugs that reduce their sex drive in a bid to cut offending.
A pilot scheme at HMP Whatton in Nottinghamshire includes chemical castration but mostly involves anti-depressants.
The prisoners are all volunteers, criminal psychiatrist Don Grubin of Newcastle University said.
The Ministry of Justice said it supports the use of drug "intervention" for some high-risk offenders.
'Marked' changes
Mr Grubin said about 100 prisoners and some former inmates on parole across the UK had already been treated with either chemical castration, which lowers testosterone levels and takes away sexual interest, or selective serotonin uptake inhibitors, also called anti-depressants, such as Prozac.
A Ministry of Justice spokesman said: "Medication can be used in conjunction with other approaches to managing the risk of sexual offending, such as multi-agency public protection arrangements and accredited sex offender treatment programmes.
"We are looking at the best ways to deliver this service, which is why we are carrying out pilot schemes at HMP Whatton and in the East Midlands probation region."
About 50 prisoners at HMP Whatton have been treated since the pilot scheme started in 2009, he added.
Mr Grubin said the treatment was used for offenders with "a high level of sexual arousal or intense sexual fantasies or urges who aren't responding to psychological treatment".
He said: "You are not giving these drugs to make them safe - you are giving them to lower the risk.
"These men … do report marked changes in their lives," he added.
Polish law
The chemical castration treatment can be given by injections that last up to six months.
"We are not talking about using drugs for every sex offenders - we are talking about using drugs where sexual arousal is a major component of their offending - which is a small proportion of the offenders."
"While they are on the medication, evidence shows there is a low level of re-offending."
In Poland, some rapists and paedophiles are forced to undergo chemical castration under legislation passed in 2010.
South Korea introduced mandatory chemical castration for convicted paedophiles last year and Moldova has voted to implement compulsory chemical castration for some sex offenders after July.