Goose Fair Forest Recreation Ground demolition work starts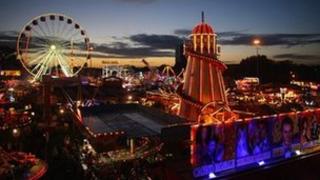 Demolition work has started at the site of Nottingham's famous Goose Fair.
It is part of a £5.1m project to restore the entrances and the Grade II listed lodge at the Forest Recreation Ground on Gregory Boulevard.
The bowls pavilion and toilet block are set to be demolished and a new café will be built.
Nottingham City Council said it also hoped by improving visibility in the area it will reduce the risk of anti-social behaviour and improve safety.
David Trimble, from the council, said: "This project involves conserving the historic elements of the park and upgrading the facilities which will revitalise the whole area."
The annual Goose Fair, which has been a Nottingham tradition for over 700 years, moved to the Forest Recreation Ground in the 1920s.
The work is being funded by the Heritage Lottery Fund, Big Lottery Fund and Nottingham City Council.