Anton Du Beke lends support to Children's Air Ambulance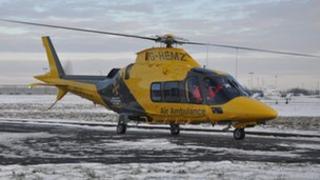 A campaign to fund an ambulance specifically for children and babies is being launched in Nottinghamshire.
The Children's Air Ambulance would be used to transport seriously ill children and babies between hospitals.
A flight from Nottingham to central London would take just 45 minutes, compared to hours by road.
A flagship charity shop in West Bridgford will be officially opened by Strictly Come Dancing start Anton Du Beke on 23 March.
Pupils at Jesse Gray Primary School, in West Bridgford, will launch paper helicopters on Wednesday to start the bid to raise £545,000.
A total of four Children's Air Ambulance charity shops will be set up across the country.
Reduced travel time
A spokesperson from The Air Ambulance Service (TAAS) said: "The helicopter itself will be very different from an emergency air ambulance helicopter inside.
"Inside, there has to be room for the specialist transfer team and all the equipment necessary for babies and children.
"The fact we are using a helicopter dramatically reduces the travel time, and unlike a land ambulance it doesn't have to cope with heavy road traffic."
TAAS also runs Warwickshire and Northamptonshire Air Ambulance (WNAA) and Derbyshire Leicestershire and Rutland Air Ambulance (DLRAA).
The Children's Air Ambulance was formed as a charity in 2005 but was not able to get the service running, so TAAS took it over in 2011.
Daniel Routt, fundraising manager for TAAS in Nottinghamshire, said: "Raising awareness of, and also funds for, The Children's Air Ambulance is vital, and I know the people of West Bridgford and countywide in Nottinghamshire will support us from day one as we receive no government or National Lottery funding."
TAAS hopes to buy a helicopter and get it into operation by the end of this year.
It would be based at Coventry Airport but could take patients across England and Wales.