Nottingham's Robin Hood marathon 'will not go ahead'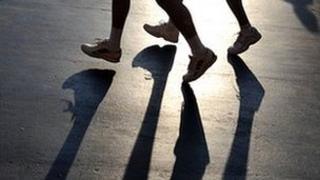 Nottingham's annual Robin Hood marathon will not go ahead this year, the first time in 30 years.
Organisers said the 26-mile route was no longer a safe or viable option due to an rise in traffic near the route around the National Watersports Centre.
It follows race director Chris Sumner's admission, on Monday, that he was struggling to re-route the marathon due to the tram works near the finish line.
The half marathon and fun run are still expected to take place on 30 September.
A Nottingham City Council spokesperson said: "We have worked with the organisers to ensure the half marathon goes ahead and we would be happy to see if we can find a solution so that the full marathon can take place as well."
Tram works
The event's organisers said there were issues with the route around the watersports centre at Holme Pierrepont.
Mr Sumner, race director, said previously: "Up until now we have been able to run on quiet roads around it but we can no longer do that as it has become busier."
He added: "The tram works at the toll bridge island, coming out of the Meadows, also make it impossible for us to finish over the toll bridge."
Race organisers said the growing number of full marathon participants was also a factor in not putting on this year's event.
Nottingham's half marathon first took place in the city in 1981, with the full marathon taking place a year later.
It has been an annual event ever since.
About 12,000 people took part in the Robin Hood half marathon in 2011, with 1,424 completing the full marathon.