Nottingham City Council to raise share of council tax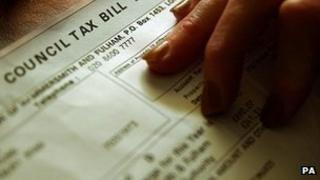 Nottingham City Council is set to raise its share of council tax by 3.4%, defying a government call to freeze it.
The government said there was a moral duty on local politicians to freeze council tax.
The Labour-run authority said the increase was needed as it was "unfairly penalised" on its share of government funding.
The council has approved spending cuts of £20m out of a budget of £277m for the next financial year.
Local Government Minister Bob Neil accused the city council of boosting its coffers and refusing to tackle waste.
Job cuts
In a statement from the Department for Communities and Local Government, Mr Neil was also critical that Nottingham City Council rejected the opportunity of extra government money of £2.5m to freeze its share of the council tax.
Nottingham residents could have saved as much as £78 a year off their bills, it claimed.
The city council said it would have forced it to make even bigger cuts in the next financial year and a higher council tax rise.
The authority is set to finalise its budget for the 2012/13 financial year over the next few weeks.
The council said there would be a further 195 job cuts out of a workforce of 10,500.
Councillor Graham Chapman, city council deputy leader, said: "We've kept an apprenticeship scheme running and the Future Jobs Fund, which the current government has abolished."