Young footballer died from misadventure, jury rules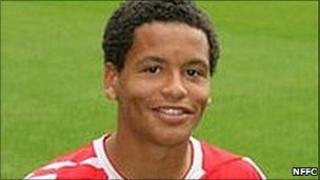 An inquest jury has returned a verdict of death by misadventure in the case of a young footballer who died when a bag of cocaine split inside his body.
Former Nottingham Forest academy player Reece Staples, 19, died after being arrested in June 2009.
The jury heard he had swallowed 19 packets of cocaine to smuggle them into the UK after returning from a holiday in Costa Rica.
His father said he hoped others would be deterred from trying the same thing.
The inquest, at Nottingham's Council House, heard Mr Staples had been arrested for criminal damage at his aunt and uncle's house in the Old Basford area of Nottingham two days after arriving back in the UK.
He had arrived at the house in an "agitated state" and began smashing windscreens and telling those around him he was going to die.
After being arrested he told four different officers he had swallowed drugs but none believed him.
Officers told the inquest they dismissed his comments as he had already lied about having a knife and had tried to run away from them.
'Massive impact'
Instead, he was taken to Oxclose Lane police station in Nottingham and collapsed in a police cell three-and-a-half hours later.
He died of acute cocaine poisoning on his way to the Queen's Medical Centre.
At the inquest, Nottinghamshire Police's assistant chief constable Paul Broadbent apologised and said the officers on duty had not been aware of newly-introduced guidelines saying anyone suspected of swallowing drugs should be taken to hospital.
After the verdict, Reece's father said he was disappointed that those who had come into contact with his son seemingly ignored his pleas.
He said he wasn't sure if Reece had decided to smuggle drugs for financial gain or other reasons.
He said: "This has had a massive impact on friends and family alike and any changes that will prevent these series of events occurring in the future will be welcomed by all concerned."
Care failure
An Independent Police Complaints Commission (IPCC) report into the incident, completed in 2010 but only published at the end of the inquest, upheld several complaints made by Reece's mother, Claire Dunne.
It found police on duty had failed to provide him with an appropriate level of care following his arrest, and that they should have taken him to hospital for medical treatment on learning he claimed to have swallowed drugs.
In a statement, the IPCC said: "In evidence to the inquest last week the forensic pathologist stated that Mr Staples would have died even had he been taken to hospital earlier.
"Nottinghamshire Police have made a number of changes to custody training and practice to address the findings of the IPCC investigation and have reinforced that if an individual is believed to have swallowed drugs they must be taken to hospital."