Nottingham boxer Carl Froch admits prolonging title fight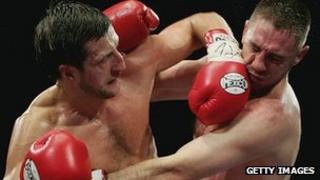 The former WBC Super Middleweight champion Carl Froch has admitted prolonging a title fight to enable members of his family to benefit financially.
Speaking on BBC Radio Nottingham, he expanded on comments made in his autobiography, published last year.
He said he could have finished his 2005 Commonwealth title defence against Ruben Groenewald earlier than he did.
The British Boxing Board of Control said it would now speak to Froch.
'Not illegal'
The Nottingham boxer said he could have finished the fight in the fourth round but deliberately avoided doing so because of bets made on it finishing in the fifth.
Carl Froch said what he did was not illegal.
He said: "I've done it more than one occasion and it was round five but that's not illegal.
"I can say, 'right, I'll stop this kid in round five'. If I'm good enough to do that then fair enough.
"I don't gamble but my brothers and my friends, they did quite well off it," he said.
"I can openly say that because if I'm good enough to step on the gas in round five and force the stoppage then that's my privilege, and that's what I did in this particular fight at the Arena for the Commonwealth title defence.
"But the problem with that is I held him up in round four.
"He was there for the taking and I held him up, I got him with a shot, I could have ended up getting done myself in round four."