Nottinghamshire Police settle dispute with former deputy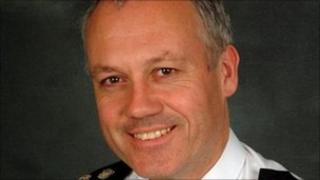 Nottinghamshire's Chief Constable Julia Hodson has agreed a compensation settlement after being sued by her former deputy.
Howard Roberts, who was Deputy Chief Constable for seven years, did not have his contract renewed in 2010.
It is understood Mr Roberts was claiming victimisation after exposing wrongdoing by the Chief Constable, under whistleblowing laws.
The settlement was for an undisclosed amount and Mr Roberts cannot comment.
The allegations against Ms Hodson will not be made public because the employment tribunal case was settled and will not be heard in court.
In a statement, Nottinghamshire Police Authority, whom Mr Roberts was also suing, said: "The matter has been settled by mutual agreement between the parties involved.
"At this time there is no further information or statement being issued."
John Clarke, former chairman of Nottinghamshire Police Authority, said he was "very surprised" Mr Roberts had settled and would expect the settlement to "run into six figures".