Nottingham school term row prompts NUT vote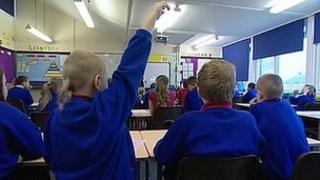 Teachers in Nottingham could strike over a dispute about a new school term system in the city.
The city council is changing to a five-term year with shorter summer holidays from September 2013, saying it will improve attainment levels.
But the National Union of Teachers (NUT) claims the change will be disruptive and there is no evidence it will help pupils.
It will start a ballot of members next week.
The five-term system - with a shorter summer holiday but fortnight breaks in May and October - will help pace children's education and ease childcare issues in the summer, the city council has said.
'Not listening'
But the NUT has said the fact county council schools, and potentially some independent schools in Nottingham, will use a different system, would cause "chaos".
The union's assistant secretary in the city, John Illingworth, said: "There are a huge range of issues, some of them about our members' conditions but some of them are about learning for our children.
"One of the things that Nottingham teachers are very fed up of is a council that doesn't seem to listen to anything they have to say."
Councillor David Mellen, who has responsibility for education at the city council, said: "We do listen to teachers but schools are not just run for teachers, they are run for the whole community.
"There is evidence from the number of sources that children who have long summer breaks, who are unable to do activities in that time, their education goes backwards."