Cash machine stolen from Bingham found at Kegworth farm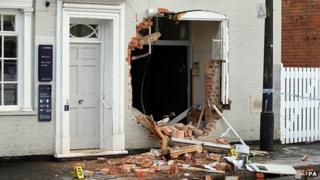 A cash machine stolen by thieves who used a tractor to remove it from a wall has been recovered by police in Leicestershire.
The cash machine was stolen from the Market Place branch of Natwest in Bingham at about 02:45 GMT on Monday.
Police recovered the device along with a Land Rover Defender, stolen from Lincolnshire, and a trailer at a farm building in Kegworth.
It had been broken into and the cash stolen.
Police believe the tractor was driven direct to Bingham from Cropwell Butler.
The force said the culprits may have driven the Land Rover and attached trailer through a number of rural villages between Bingham and Kegworth, including Cotgrave, Wysall, Bunny and East Leake.
Sgt Steve Wragg, from Beeston CID, said: "It would have been an unusual sight to see the vehicle towing such a large trailer through quiet, rural villages in the early hours of the morning.
"Anyone who saw the vehicle may hold vital information which could help us find the people responsible for this incident," he said.