Nottingham Royal Marine Martin Gill 'unlawfully killed'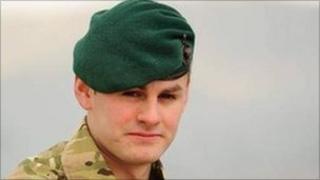 A Royal Marine from Nottingham died after being shot in the neck and head in Afghanistan, an inquest has heard.
L/Cpl Martin Gill, who was 22, was fatally wounded by small arms fire while on a foot patrol in the Nahr-e-Saraj district of Helmand.
He was an hour into his patrol on 5 June 2011 when it was fired upon from a nearby compound. He served in 42 Commando.
Nottinghamshire coroner Mairin Casey recorded a verdict of unlawful killing.
'Volley of bullets'
The court heard L/Cpl Gill, known as Fish by his comrades, was a cover man while other members of the patrol carried out biometric data checks on locals.
On 5 June, the marine was leaning against a wall in a seated firing position, with his weapon in a prone position, resting on his knee just before he was shot.
Cpl Dearan Withall told the inquest the patrol was about to finish the exercise when a volley of bullets came their way.
"The first burst happened and I ran towards cover," said Cpl Withall. "I turned left and I looked back and saw another burst of rounds hit Fish," he said.
L/Cpl Gill was given first aid and dragged by Cpl Withall and marine Barry Bullman down a nearby alleyway, with the help of other members of the company.
A post-mortem investigation found the cause of L/Cpl Gill's death to have been from a gun shot wound to the neck and head, areas that his body armour could not protect.
'Courageous' marine
Speaking to Cpl Withall, the coroner said: "You did everything you could to save his life. The evidence made it clear that was impossible."
Quoting from Ewen Murchison, commanding officer of 42 Commando, Miss Casey added: "He [L/Cpl Gill] was a passionate and dedicated and utterly loyal to his friends and comrades.
"He was a true hero, selfless, resolute and courageous to the end."
Speaking on behalf of the family, L/Cpl Gill's uncle, Paul Gunter, said: "Many of the questions we had regarding Martin's death have been laid to rest today and in the last few weeks.
"The support we have received from the force and from 42 Commando has been exemplary."