Ancient Rocking Ceremony kept alive at Blidworth church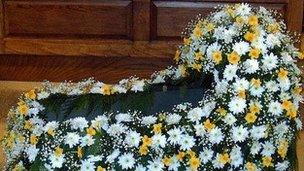 An ancient ceremony which is believed to be performed at only one church in England is still important today, the church's vicar has said.
The Rocking Ceremony, held at St Mary of the Purification in Blidworth, Nottinghamshire, marks the presentation of baby Jesus at the temple in Jerusalem.
On Sunday, the baby boy born nearest to Christmas Day in the village will be rocked in a cradle.
The congregation of the church is expected to swell to five times its usual number of 30, to see the event.
The Reverend Hazel Robinson said the ceremony helped to keep alive the tradition of the church in the village.
"It makes people think about what the coming of Jesus represents in their own lives today," she said.
All those rocked get their name inscribed on a board on the church wall and there is a cast iron cradle in the centre of the village to commemorate the tradition.
The Rocking Ceremony origins date back over 400 years to a time when churchgoers could not read, so Bible stories were acted out in church.
The ceremony helps tell the story in the gospel of Luke when Joseph and Mary went to the temple for Mary's ritual purification and to perform the redemption of the first born, by giving a poor sacrifice of two doves.
Doves are not sacrificed at the church today but a child is rocked in a cradle donated to the church 100 years ago.
The ceremony was stopped in the 1600s because of the excesses of partying and drinking that went on around it, Ms Robinson said.
A stone in the church remembers a man who was killed in a fight over a woman after one such party, according to local folklore.
But in 1842, after 150 years, the tradition was revived, and then again in 1922.
"The church is usually full for the ceremony," Ms Robinson said. "It generates a lot of interest.
"This Sunday we'll have people travelling from Coventry and Lichfield and maybe further afield."