Nottingham riots: Four men jailed over jewellery raid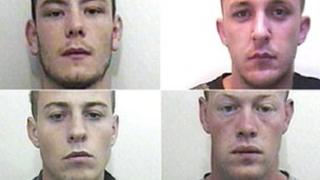 Four men have been jailed for raiding a Nottingham jewellers during the summer disorder in the city.
Robert Denison, 28, of Queen's Bower Road, Bestwood, was found guilty of the burglary of Steven Roberts Jewellers and jailed for three years.
Andrew Britten, 23, admitted burglary and was sentenced to two-and-a-half years, at Nottingham Crown Court.
Daniel Hourd, 21, and Richard McCoy, 24, also admitted the charge and were both jailed for 20 months.
Police said the men forced entry to the shop in Clinton Street East, before smashing windows and grabbing watches, silver chains, cufflinks and pendants in the early hours of 10 August.
Officers spotted Denison dropping several jewellery boxes next to a bin before arresting him near Lower Parliament Street.
Britten, of Costock Avenue, Sherwood; Hourd, of Bradmore Rise, Sherwood; and McCoy, of Staunton Drive, Sherwood; were arrested in Mansfield Road soon after.
More than 100 people were arrested and 75 were charged after five police stations were attacked and cars, pubs and shops were damaged during disorder in Nottingham in August.
Nottinghamshire Police said the summer riots cost the force £950,000.
A report being presented to the police authority on Wednesday showed officer pay totalled £415,000, overtime was £436,000 and transport cost £100,000.
The Home Office confirmed the force will receive a grant for 85% of the £950,000 costs.