Nottingham Robin Hood medieval village 'still possible'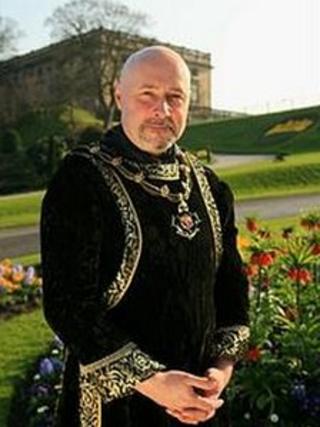 The Sheriff of Nottingham has said he is confident a £25m medieval village tourist attraction could still be built at the foot of Nottingham Castle.
Plans were put forward as part of the Sheriff's Commission two years ago.
The aim of the commission was to suggest how the city could make more of the legend of Robin Hood.
Several investors registered an initial interest in the plans but everything went on hold when the country entered a recession, Councillor Leon Unczer said.
The idea was to create an "adventurous and fun but historical in context" medieval village which could attract 500,000 visitors a year, Mr Unczer said.
"Commitment-wise it needs the backing of the city and somebody with a lot of money," he said.
"It's megabucks but there is always somebody who you can get that money from."
The sheriff denied his theme park plans were just "pie-in-the-sky".
'Mildly cautious'
"We had some names (of interested parties) before the recession, so when it actually lifts the game could be back on and I sincerely hope it will be," he said.
Mr Unczer admitted that no-one at Nottingham City Council was as confident as he was about the plans.
"They are mildly cautious, most politicians are," he said.
The Sheriff's Commission was set up in 2009 prior to the release of the Hollywood blockbuster Robin Hood.
The sheriff admitted that two years on the city's Robin Hood offer was still not good.
But he said improvements had been made with a new audio trail and exhibitions at the Galleries of Justice museum and castle.
"There's lots to be done. If you are adventurous enough and brave enough let's do it," he said.
The Sheriff's Commission initially said it hoped to build a "new, truly world-class Robin Hood visitor experience" by June 2018.