'Priceless' Nottinghamshire war hero plaque stolen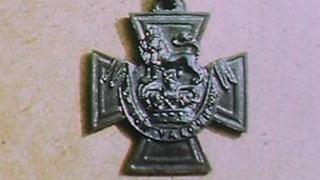 A brass plaque honouring a Nottinghamshire war hero has been stolen from a park.
The memorial was a tribute to Victoria Cross recipient William Johnson, who was wounded in France in 1918 while attacking a German machine gun nest.
Police said it would probably be worth only £10 as scrap metal.
The brass plaque, which was attached to a stone in Worksop Memorial Park, was stolen between 16:00 GMT on 19 January and 09:00 GMT on 20 January.
Sgt Johnson's Victoria Cross is displayed at the Sherwood Foresters Museum at Nottingham Castle.
'Priceless' memorial
The plaque was "priceless, being of great sentimental value to Sergeant Johnson's family and the wider community", a police statement said.
Bob Privet of the Royal British Legion said he was disappointed to hear of the theft, adding it would be replaced by the legion.
Sgt Johnson, of Worksop, was seriously injured in his single-handed attack on the gun emplacement in Ramicourt in France.
He attacked several gunners and captured two of the machine guns.
He died in April 1945 and is buried in Redhill cemetery in Nottingham.