Making way for Nottingham's £570m tram extension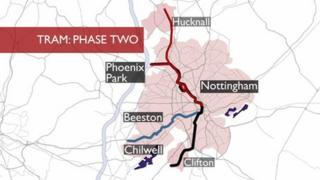 As residents and businesses move to make way for two new tram lines in Nottinghamshire, the BBC speaks to some of those affected. How do they feel about moving, and will they use the new tram lines?
The £570m extension of the Nottingham Express Transit (NET) requires 78 buildings or structures to be demolished, with the majority being homes or businesses.
The two new tram lines will meet in the city centre where 22 properties or structures in this common section are being demolished, nearly all of them commercial.
In Clifton, two properties - both houses - are being demolished at the point where one of the lines terminates.
But along the line which extends to Chilwell, via the Queen's Medical Centre and Beeston, 54 properties or structures are being knocked down.
As well as businesses and homes, the properties include a house and disused nursery within the grounds of the University of Nottingham.
The Beeston resident
Justin Fuller, 35, moved to Chilwell Road in Beeston in January 2011, not realising that his house was on the proposed tram line.
"I found out through a neighbour a couple of months after I had been living there," said Mr Fuller, who works in IT support.
"I knew they were planning trams in Clifton and Beeston but I wasn't aware of that particular route."
Mr Fuller received an email from his letting agents in December saying he needed to move in January, then received formal notice a few days before Christmas.
"It was a pain because rather than enjoying Christmas I was booking vans, and I had to take a day off work," he said.
Nottingham City Council helped finance his relocation and he now lives in Clifton - near to where one of the new tram stops will be.
But he does not think he will use the new line, despite working in the city centre where the tram will run to.
"To me it's a waste of money because in Beeston and Clifton you've got so many buses," said Mr Fuller.
"We've got a perfectly good bus service and they want to build a tram, and I cycle to work anyway.
"For the millions they are putting into it I don't see how it's any better than the bus."
The Beeston business
Mike Gamble is proprietor of Crossplay, which sells musical instruments and sheet music.
His old premises in Chilwell Road are being demolished, so this month he moved to vacant premises across the road.
"The move was hectic but we got here in the end," said Mr Gamble.
"The city council has been very cooperative. They've paid for the re-fit of the shop so I can't complain.
"It's not quite as big as the old one so I'm searching for space but we will get it in."
Mr Gamble expects to get more trade in his new location, and customers even started coming in before he had officially opened the shop.
"On the other side of the road I was on the first floor," he said.
"Now I'm on the ground floor with double shop windows. It will make a difference and we've noticed it already."
Mr Gamble does not plan to use the tram himself.
"It will be of benefit to people in Derby," he said. "They will be able to use the park and ride and get the tram into Nottingham. It's for people out of the city. It's nothing to do with us at all.
"We have a marvellous bus service here. They run every few minutes into town. Why have another bus which is on rails?"
The Clifton residents
Susan and Ian Swanwick have lived in the same house in Farnborough Road since they married 30 years ago.
In 2001 they were told their home and the adjoining semi-detached house might need to be demolished to make way for the tram. Nottingham City Council then told them that two other houses further down the road would be demolished instead.
But in 2003 the couple received a letter saying their house might be demolished after all.
"We've had it hanging over our heads for a few years," said Mrs Swanwick, 52, a part-time carer for her father.
"The tram was proposed but they didn't have the proper finances then.
"All the time we are still in limbo. You can't sell the house because who would want to buy it?"
Recently the Swanwicks received a letter, dated 11 January, saying they must move out by 5 March.
"Where do they want us to go on the 5 March?" asked Mr Swanwick, 54, an electrician.
The couple's two adult sons also live in the house.
"It's the only home they've ever known and they are really upset," said Mrs Swanwick.
"We've got all the memories. All your memories are here when you've had your boys here and they've grown up here."
Neither think they will use the tram.
"God strike me dead if I get one foot on the tram," said Mrs Swanwick.
"Two-thirds of the people in Clifton are going to be nowhere near it. I think it's going to be a waste of time."
"They've got the other tram system and I've not been on a tram yet in 10 years," said Mr Swanwick.
The city centre business
Terry Taylor, 65, ran Programme World on Arkwright Street for 28 years but the premises are among those being knocked down. This month Mr Taylor moved his souvenir manufacturing business to Radford, north of the city centre.
"I'm upset about it because after 28 years they just want to take it off you. They think it's only a building but it's my livelihood," said Mr Taylor.
"We've been there for 28 years. It's like living there. We were there at nine o'clock every morning, and left at six or seven o'clock at night. I spent more time at that shop than I did at home."
His son, daughter-in-law and grandchildren also had to move from their flat above the premises. They are living with Mr Taylor while they look for a new home.
The mortgage had already been paid off for the premises on Arkwright Street, and the council is buying the property off him. However, he will have to pay rent for his new premises and he doesn't know if his business can survive with this additional ongoing cost.
"Hopefully I want to carry on for another five years and then I will gracefully retire and do what I want to do," he said.
He said he would not use the new tram lines.
"I don't agree with it," he said. "Half the Nottingham public don't want it anyway. I think it's a sheer waste of money.
"The tram has ripped Sheffield to bits. We've got good public transport in Nottingham anyway."
The resident 'in limbo'
Hairdresser Clare Wilkinson, 30, moved to her house in Brooksby Lane, Clifton, in August 2010.
Parts of her front and back gardens - about a third of the land in total - are being used for the tram.
"The tram hadn't been finalised when we came to view the house," said Clare, who lives with her husband Tom Wilkinson, 33.
"The vendor dismissed the whole thing and said the government might not give funding."
Mrs Wilkinson said she tried to get information about the scheme from the city council, then finally received a letter on 7 January this year.
"It said 'we are going to send a liaison officer to discuss it with you 14 days before we are due to do any works'," she said.
"I was a little bit disgusted as to the fact they thought it was OK to send someone round a fortnight before they are going to dig up the garden. I'm still in limbo about it.
"Next door are like 'I want to move, I don't think I can put up with this'.
"If I put this house on the market now, even though we've done a hell of a lot of work to it, we are not going to sell it."
Mrs Wilkinson does not intend to use the tram.
"I think Clifton has got an adequate bus service," she said.
"Everyone I've spoken to, my clients that live in the area, no-one can understand why they want to bring it over here. I don't think it's going to benefit anybody."
The business 'in the middle'
Gavin Wride is manager of the Nottingham Fireplace Company on the corner of Arkwright Street and Crocus Street, in Nottingham city centre.
He is cautious about investing in the showroom - a former hotel - because he does not know if it will be demolished or not.
"Originally this building was going to be bought and knocked down and a hotel put here but that's all been chopped and changed," said Mr Wride.
"It's only in the last six months it's been confirmed they don't want our building anymore.
"It's an old building and it does take a lot of maintenance. We are very hesitant on investing in the property because of the fear they might still want to knock it down."
Mr Wride is not sure if the tram will benefit businesses in the area or hinder them.
"We might be in the middle of a nice buzzing area with shops or the middle of a war zone," he said.
'Boost to economy'
Nottingham City Council estimates that the new lines will double the use of the existing tram, with an estimated 20 million tram journeys expected each year.
Councillor Jane Urquhart, portfolio holder for planning and transportation, said: "We appreciate that this is a difficult time for those whose properties are affected by the tram project, and we are doing all that we can to work with them to help them through this difficult time.
"The plans for NET Phase Two have been ongoing for ten years and so the occupiers of affected properties have been aware of the issue for some time, and we have provided them with updates as the project has progressed.
"We have and will continue to provide practical help and support to ensure any moves go as smoothly as possible.
"NET Phase Two will mean a significant boost to the local economy, help regenerate areas, bring more jobs and provide better public transport and transport connections for thousands of people."