Nottingham City Council budget plans threaten 195 jobs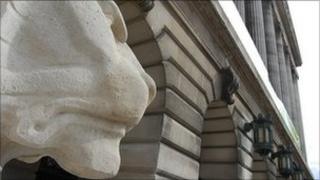 Nottingham City Council could raise council tax by 3.49% and cut 195 jobs in a bid to save £20m.
Most residents would see their council tax rise by about £36 next year under the budget proposals for 2012/13.
The Labour-run council, which faces a 7.36% cut in government funding, said the measures were needed to protect services for the most vulnerable.
The plans were presented to the council's executive board on Tuesday and will go to full council on 5 March.
Other proposals include the closure of the Marlstones Elderly Person's Home in Bulwell, the transfer of Portland Leisure Centre in the Meadows to the voluntary sector, and reducing funding to Connexions, a support service for young people.
'Incredibly difficult'
Councillor Graham Chapman, the city council's deputy leader, said: "The government's cuts are unfair on cities like Nottingham.
"We have done what we can to protect the most vulnerable and those front line services which people rely on most, but it is incredibly difficult when these cuts come on top of years of our own prudent efficiencies and last year's £60m of government cuts."
The council had rejected the government's proposed grant to freeze council tax because it was a one-off and would cost Nottingham a lot more in the long run, Mr Chapman said.
But Local Government Minister Grant Shapps said that the council's cuts and council tax rise were the "arrogant response" he had come to expect from Labour-run Nottingham.
Mr Shapps said sharing back room services with other authorities and cutting senior pay should come first.
Mr Chapman said the council was already doing that and would not take lessons from the government.
Nottingham City Council said this would not be the end to the cuts and it would need to save at least another £24m by the end the spring of 2015.