Calls to scrap Field Farm greenbelt housing plan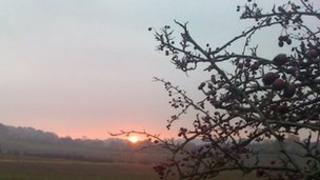 Campaigners fighting plans to build 450 homes on Nottinghamshire greenbelt land have said they will not back down.
About 150 residents attended a public meeting to discuss proposals for the properties on the edge of Stapleford submitted to Broxtowe Borough Council.
They raised concerns about the merging of Stapleford and Trowell, traffic, flooding and the cost of the new homes.
The council said it welcomed comments during its consultation process, which runs until 2 February.
'Not our problem'
At the public meeting on Saturday, Jennie Phillips, from Stapleford and Trowell Rural Action Group, said councillors needed to listen to local residents.
"We don't want Field Farm to be developed," she said.
"I hope the one thing they take away from this is that they can't stand and dictate to us.
"We are a local community and the national (housing) problem is not ours."
Councillor Steve Barber, chairman of the council's development control committee, said the plans were not a "done deal" and urged people to put their concerns in writing to the council.
"Get an objection in, we will look at it, we will take everything in and make a democratic decision," he said.
However, Mr Barber warned that if the plans submitted by developer Westerman Homes were rejected new homes would have to be built on greenbelt somewhere else.
Broxtowe Borough Council is expected to find appropriate sites for about 5,700 new homes by 2026 and said it plans to build on 7% of its green-belt land.