Nottingham Forest v Leicester City FA Cup derby: Police 'have good plan'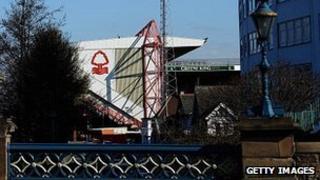 Nottinghamshire Police say they have a "good plan" in place to deal with an estimated 8,000 Leicester City fans travelling to Nottingham on Saturday.
Extra officers have been put on duty for the Foxes' FA Cup clash against Nottingham Forest at the City Ground.
Police have asked pubs around the stadium to close after the game to help them escort supporters from the area.
Supt Mark Holland said he did not think the higher number of visiting fans would increase the risk of disorder.
He said: "8,000 is more away fans than, in my experience, we've ever had to deal with.
Designated pubs
"It causes some logistical problems for us, but we've got a good plan in place which we've discussed with the train system and British Transport Police.
"We don't look at risk from the number of people going to a game, we look at the risk around the intelligence we've got.
"That hasn't caused us any problems with the increased ticket sales."
Supt Holland said there were designated pubs for away fans before kick-off but urged the Leicester supporters to head to the ground as soon as it opens at 13:30 GMT.
He added people in the city should be aware that the area around Nottingham train station would be more busy before and after the game.