Archaeologists hunt for Viking heritage in Sherwood Forest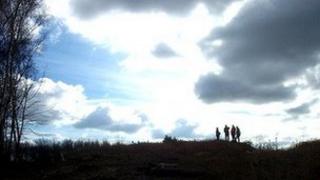 The land surrounding a mysterious ancient monument in Sherwood Forest is to be researched after a local history group received a £50,000 lottery grant.
A Thynghowe or Thing, an open-air meeting place where Vikings gathered to discuss the law, was discovered in Sherwood Forest seven years ago.
Experts surveyed the site this year and suggested the wider area be looked at.
The Friends of Thynghowe now plan to search for further evidence of Vikings including a "court circle".
Aerial view
Historians Lynda Mallett and Stuart Reddish found references to local people meeting on a hill in a 200-year-old privately owned document that describes a walk around Birklands.
Clues in the document led them to a place now identified as Thynghowe and a standing stone, which is named in old maps as the Birklands Forest Stone.
Here Viking elders would have stood and given verdicts over disputes to large crowds.
Only a handful of such sites are known in the British Isles and the historians formed The Friends of Thynghowe to protect and conserve it.
Experts surveyed it in January 2011, following funding from Nottinghamshire County Council.
The Heritage Lottery Fund grant will now enable The Friends of Thynghowe to carry out a survey in January 2012.
A plane will fly over the designated area of Birklands taking laser measurements of the landscape, recording the features mainly hidden beneath the trees.
Where these photographs appear to show ditches or circles, a team of volunteers will carry out surveys of the land.
Ms Mallett said: "Workshops and training are planned for both archive research and surveying techniques used in the forest.
"We aim to encourage people who may not have done this sort of thing before to come on board and discover their heritage," she said.
"There are thousands of years of history in the area from Iron Age field systems all the way to World War II, and we will be recording everything we find," said Ms Mallett.
"We will be looking for the 'forgotten heritage of Birklands'."