Christmas drink-driving crackdown in Nottinghamshire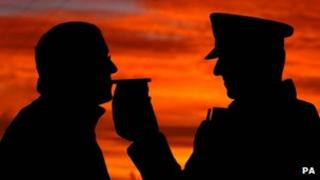 Motorists in Nottinghamshire will be tested as much as possible to reduce drinking and driving over Christmas.
The number of collisions in which alcohol was a factor has risen in Nottinghamshire for the first time in three years, said the police.
The Road Safety Partnership said there were as many crashes between January and July 2011 compared to the whole of 2010.
Police warned drivers not to drink at all in order to stay safe on the roads.
'Killing people'
The number of alcohol-related collisions in Nottinghamshire fell from 176 in 2008 to 96 in 2010, according to Nottinghamshire County Council figures.
However, in the first seven months of this year there were already 96 crashes and two people were killed.
Ch Insp Andy Charlton said: "The only safe number of alcoholic drinks you can consume before driving is zero.
"No one must believe that the scourge of drink-driving has gone away.
"Drink-driving is killing people, and this Christmas we will be out testing as many drivers as possible.
"We are determined to catch those who put not just themselves, but all road users at risk."