Nottingham's hospital trust to crack down on smokers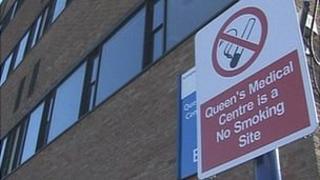 Uniformed officers will patrol Nottingham's two main hospitals in January in a bid to remind people of a non-smoking rule on hospital property.
Queen's Medical Centre and Nottingham City Hospital will use community protection officers to deter smokers.
A no-smoking rule was introduced at the city's hospitals five years ago, but is often ignored.
Under a week-long campaign in early January, the hospital will prosecute anyone who drops cigarette butts.
'Polite' message
The Nottingham University Hospitals NHS Trust will also introduce extra street sweeping and a deep clean of the Queen's Medical Centre's main entrance.
"It isn't illegal to smoke outside the hospital (on the grounds) but it is illegal to smoke inside," Ms Rowe, the trust's deputy director of human resources, said.
"They (CPOs) will approach visitors and patients who are smoking on the site and ask them quite politely and firmly to move away from the main entrance."
She said the trust had looked at building four smoking shelters but the estimated £100,000 cost was considered too expensive.