Nottingham student says police took his film illegally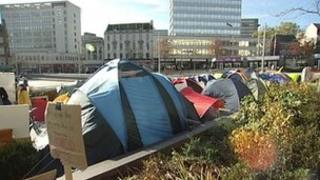 A student has said a tape from his video camera was seized by police illegally as he filmed in the Old Market Square in Nottingham.
Lewis Stainer was producing a report for college about the Occupy Nottingham protesters when officers made arrests.
Police said the tape contained evidence relating to a criminal investigation and they had the right to take it.
Mr Stainer said officers had given him a CD copy of his work but scenes had been deleted.
The 20-year-old said the copy could not be edited and had no sound.
Mr Stainer, who attends New College Nottingham, said it was his "legal right" to film what was happening and the officer should not have taken his tape.
Mr Stainer referred to Nottinghamshire Police guidelines which state that officers do not have the authority to confiscate cameras or film.
However, the Police said the tape was taken under section 19 of the Police and Criminal Evidence Act.
It states that an officer can request and, if necessary, seize an item if there are reasonable grounds for believing that it is evidence relating to an offence.
Stolen goods
Mr Stainer said: "The footage of the arrest has been completely deleted off the copy, which is unacceptable.
"I can't see how the arrest would be helpful in the criminal investigation, it was just officers putting handcuffs on someone."
Mandy Ball, a senior lecturer in media law at Nottingham Trent University, said: "The police can seize a camera at the scene if they suspect it contains evidence of a crime.
"However, it does not give them the right to delete images or the right to destroy film."
Police said the request for the tape followed the arrest of four people on suspicion of theft and receiving stolen goods on 21 November.
Two people have since been charged in relation to this offence.
Police said the officer who made the arrest had reason to believe the recording being made by Mr Stainer had evidence of offences being committed and duly made the request.
A police spokesperson said the tape had been logged for court proceedings but they were looking into why scenes were deleted from the copy of Mr Stainer's film.