A453 widening plan in Nottinghamshire gets go ahead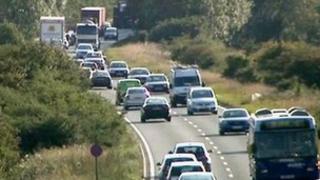 Plans to widen one of the busiest roads in the East Midlands have been approved, the government has announced.
For years politicians and business leaders have been calling for Nottinghamshire's A453 to be improved.
The 11-mile (17.7km) section, of mostly single track carriageway between the M1 in Leicestershire and the outskirts of Nottingham, suffers severe congestion.
Nottinghamshire County Council said the widening project would give a £540m boost to the East Midlands economy.
'Absolutely thrilled'
Improvements to the A453 route, which carries about 32,000 vehicles a day, have been under discussion since the 1970s.
The government had been pressured by various groups in Nottinghamshire to have the scheme brought forward, with the county council offering £20m towards its costs.
The £164m project was one of several delayed until at least 2015 as part of the comprehensive spending review.
Councillor Kay Cutts, leader of Nottinghamshire County Council, said she was "absolutely thrilled" with the government's decision to bring forward the A453 widening scheme.
"We have campaigned long and hard for this," she said.
"The A453 has been on the council's wish list since the 1970s and has been under discussion at County Hall ever since I joined in 1989.
"At last it is going to happen and I am delighted for local businesses and commuters alike," Mrs Cutts added.
The campaign to widen the road had garnered support from local councils and business, including a pledge of £500,000 towards the scheme from Rushcliffe Borough Council in October.
The RAC Foundation, who also said the A453 was in need for improvement, claimed that congestion around the East Midlands was set to increase in the next 25 years.