New generation of Nottingham churches draw in large crowds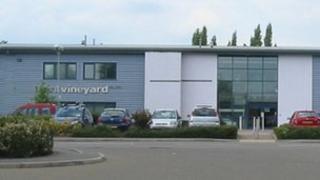 Light shows and live music have helped a thoroughly modern Nottingham church grow its congregation to 2,000 members in 15 years.
Trent Vineyard, a huge steel-framed warehouse on an industrial estate in Lenton, was started by John and Debby Wright in 1996.
Instead of an altar, the Christian venue has a stage and concert seating.
Mrs Wright said the modern approach had helped it attract regular crowds of more than 1,000 people.
She said: "We don't have anything against traditional churches but we felt people needed to get past what they would assume church is like and actually meet us.
"We believe the church is the people not the building."
The church collects more than £20,000 a week from the congregation and has raised a further £7.5m for a building project.
Furniture showroom
However Trent Vineyard is not the only non-traditional church to attract large numbers in the city.
The Christian Centre on Talbot Street has 1,500 members and last year raised £400,000 in charity donations for projects in Nottingham.
Meanwhile at Castle Boulevard an old furniture showroom has been knocked down to make room for Nottingham's newest church.
Cornerstone Church's 700 members raised £4m in four years to build a modern venue after the church outgrew its existing meeting place in a school.
John Wright believes the new generation of churches is helping to attract people back to faith across the city.
He said: "Well-respected church leaders from around the nation when they visit Nottingham note that something is happening. It is a very exciting time."
BBC Radio Nottingham is holding a 'Big Church' service on 27 November at the following places of worship:
Trent Vineyard (Easter Park, Lenton Lane) at 10:15 GMT.
Grace Church (1 Castle Boulevard) at 10:30 GMT.
The Christian Centre (104 to 114 Talbot Street) at 11:15 GMT.