Stapleford green-belt housing plans unveiled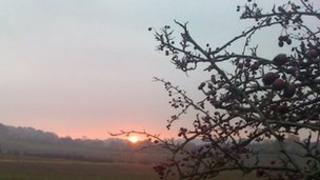 Plans to build 450 properties on green-belt land in Nottinghamshire have been unveiled.
Proposals for the homes in Stapleford would be submitted to Broxtowe Borough Council before Christmas, developer Westerman Homes said.
Broxtowe Tory MP Anna Soubry said it would put the town's identity at risk and she suspected it was a "done deal".
The council is expected to find appropriate sites for about 5,700 new homes by 2026.
Westerman Homes want to build on the Field Farm site on the north-eastern edge of Stapleford.
Councillor Steve Barber, chairman of the council's development control committee, said if it was proved the project benefited the town he suspected councillors would be favourable to it.
'Consider feedback'
"Whatever happens we must ensure that this is a positive move that benefits Stapleford," he said.
Ms Soubry said there was little green-belt land left in her constituency and it was needed to prevent urban sprawl.
"The council have gone about this the wrong way. They should have talked to people first and seen what people wanted," she said.
"Instead, they singled out two preferred sites. They've dropped Toton and the other place was Field Farm.
"If that doesn't seem like a done deal I don't know what does."
Broxtowe Borough Council said if the plans were approved they would go out to public consultation.
A spokesman for Westerman Homes said it would consider feedback from the public and "where possible amend the application to accord with their desires".