Union jack row man Roger Henry gets 'death threat'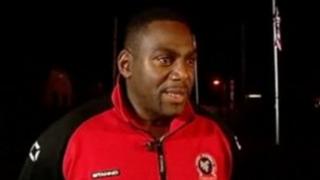 A man who complained about the permanent flying of a union jack in his Nottinghamshire village said he had received racist death threats.
Gamston Parish Council voted in favour of the year-round display of the flag on the village common.
Roger Henry said the flag had become a symbol of far-right political groups.
He said he had since received a letter which said "we hope you get killed" and "go back to your own country".
Nottinghamshire police confirmed they were investigating the claims.
'National pride'
Mr Henry said: "I don't mind people challenging me on any debate but when you're threatening family and young children then it's quite serious."
He added he felt the letter, which he described as containing "far-right extreme" words, vindicated his fears over the flag sending out the wrong message.
The council had decided to fly the flag only on special occasions after complaints it was a controversial symbol.
But last week, Gamston Parish Council voted 7-2 in favour of the year-round display, after Councillor John Harbury-Carlisle threatened to resign over a matter of "national pride".
Mr Henry said he was going to write to local politicians and the prime minister.