Westlife fan blames marriage break-up on obsession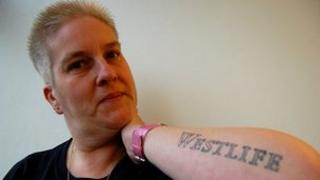 A Westlife "super fan" has blamed the breakdown of her marriage on her obsession with the Irish boy band.
Jane Fogg said she had spent £30,000 on merchandise and tickets to see the singers perform over the past 10 years.
The 44-year-old pub cleaner from Forest Fields in Nottingham has nine tattoos dedicated to the band, including five portraits.
She said her relationship failed because she loved the band more than anyone, even her husband.
"I just love Westlife too much," she said.
"I love them more than I loved him. It is the biggest thing in my life."
Ms Fogg became a fan shortly after the band formed in 1998.
'Complete nutter'
She has seen Westlife perform live about 60 times and admitted her obsession had spiralled out of control.
"Once I'd been to my first concert I was gripped. The more I had, the more I wanted." she said.
The mother-of-two spent over £1,000 on tattoos on her arms and legs and said her house was like a shrine.
"My son says I'm a complete nutter. My daughter, she likes them as well, but she's not a super-fan like me."
Westlife have announced they are to split after their farewell tour next year.
Ms Fogg said the announcement had left her "truly devastated", but she added: "I have all those memories and no-one can take that away from me."