Tesco Nottingham £40m store plan abandoned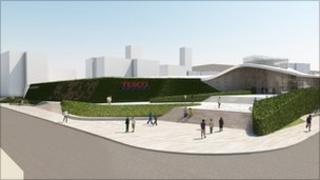 A supermarket has abandoned its plans for a £40m Nottingham store after the city council opposed the project.
Tesco said it "would not pursue" the £40m Eastside project near Sneinton after reconsidering the plans.
City planners had opposed the scheme for the store off London Road as it did not fit in the city's master plan.
The firm said it was "keen to look at others sites and keen to invest in Nottingham".
'Great site'
The original Tesco plans for the site were withdrawn by the firm in May after opposition from the council.
"We thought it was a great site and a great opportunity for the Eastside development - with a good supermarket that would have kick-started the Eastside scheme," Tesco spokesman Jonathan Simpson said.
Tesco had a second look at the plans but has now decided to look elsewhere in the city.
The project, in the city's Eastside Regeneration Zone in an area known as the Island Site, would have been the biggest Tesco store in the East Midlands and created 350 jobs.
Planning officials said the design and size of the store near the city's rail station were inconsistent with overall plans for the site.
Nottingham City Council had also voiced concerns that the proposed 90,000 sq ft (8,361 sq m) store could threaten traders in the city centre and in Sneinton.
The council's vision for the Island Site was to see a mix of office, residential and retail development evenly spread throughout the area.