Nottingham teen jailed for manslaughter after cricket fan's death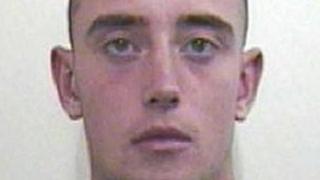 A teenager has been jailed for 30 months after he hit and killed a cricket fan in an unprovoked attack in a Nottingham street.
Jacob Dunne, 19, hit 28-year-old James Hodgkinson, a trainee paramedic from Southampton, who fell to the ground.
He was taken to hospital but died nine days after the attack.
At Nottingham Crown Court Mr Justice Flaux said the attack was "yet another example of mindless and gratuitous violence".
Mr Hodgkinson, a trainee paramedic, had been visiting Nottingham with his father, brother and three friends to watch the Test match between England and India at Trent Bridge.
Justice Flaux said: "Innocent and law-abiding men like Mr Hodgkinson should be entitled to go out and enjoy themselves without being attacked like this."
'Pirate' hat
At a preliminary hearing in September, Dunne, of Whickham Court, The Meadows, Nottingham, admitted manslaughter.
The attack happened after Mr Hodgkinson and his brother, father and three friends met another group in Nottingham city centre on 31 July.
Both groups had been drinking and began to discuss some pirate uniforms that Mr Hodgkinson's group were wearing.
When one of Dunne's friends refused to hand a hat back the atmosphere changed and became argumentative, the court heard.
Dunne hit Mr Hodgkinson with a clenched fist and the paramedic, who was working as a trainee in London, fell to the ground and injured his head.
Mr Hodgkinson's father chased Dunne immediately after the assault but was unable to catch him.
Dunne voluntarily went to a police station and handed himself in on 25 August.
A post-mortem examination found Mr Hodgkinson sustained a fractured skull and suffered a brain haemorrhage which caused his death.