Workers protest outside Ratcliffe-on-Soar power station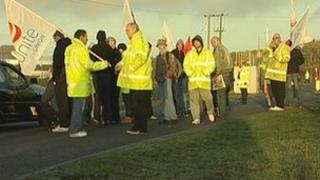 Construction workers have been demonstrating outside a power station in a dispute over new contracts.
They claim a contractor at Ratcliffe-on-Soar in Nottinghamshire has told employees to agree to terms meaning a 30% pay cut.
Contractor SPIE Matthew Hall has said, however, workers' wages would not be cut, but the Unite union said a ballot would be held on industrial action.
The demonstration caused lengthy traffic delays on the A453.
Unite said SPIE Matthew Hall was one of a number of contractors in the construction industry to have issued them with legal notice of their intention to dismiss, with notice, thousands of employees before re-engaging them on the new contracts.
'No blacklisting'
Unite regional officer, Steve Syson, said: "Construction workers are getting increasingly angry by the attack by some employers on their pay and skills.
"Skilled workers, like electricians, plumbers and heating and ventilating engineers, are set to see their livelihoods devastated, if these companies get away with cutting their pay by a third and taking away the skilled jobs."
Blane Judd, of the Heating and Ventilating and Contractors' Association (HVCA), which is representing the contractors, said the action had been "disappointing".
"It is utterly untrue for these protesters to claim that employees will have their wages cut and workers will be blacklisted following the introduction of a new building engineering services national agreement," he said.
"In addition, no-one will lose their jobs as a result of the changes that eight employers, including SPIE Matthew Hall, are proposing to make, nor be downgraded through a process of de-skilling."
SPIE Matthew Hall said it was "acting in the best interests of our employees and their future job security".
A similar protest was held outside the power station on 7 October.