'Monolithic' Nottingham car park criticised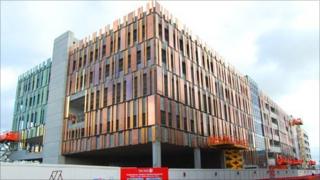 A new multi-storey car park in Nottingham has been criticised by historians for its design and size.
Due to open next spring, the 950-space facility is part of the £67m redevelopment of the railway station.
The city council said the car park on Queen's Road was part of the regeneration and growth of Nottingham.
The civic society said the "monolithic" structure blocked the skyline and did not complement the Edwardian Baroque Revival style station.
Nottingham Civic Society's Ian Wells said: "It's the shear size of it right next to a Grade-II* listed station.
"It impacts on views across the city, from London Road towards the castle," he said.
Jane Urquhart, from Nottingham City Council, said it was always a matter of opinion with design.
"I would never expect a car park to be stunning and beautiful," she said.
"As car parks go I am quite impressed by it."
Nottingham Railway Station's previous car park was at capacity, Ms Urquhart said.
East Midlands Trains and Network Rail made it clear to the council more spaces were needed to cater for rail travellers.
"It is about giving us a station that is fit for the growth in rail travel," she said.
Work is due to start on the station's buildings in 2012, with the creation of a new ticket office and passenger arrival hall.
The entire project is due to be completed by 2014.