Leicester man jailed over army major's crash death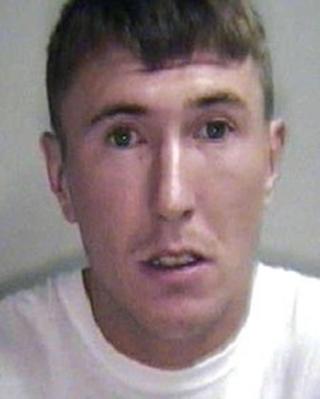 A Leicester man who killed an army officer has been jailed for eight-and-a-half years for causing death by dangerous driving in Nottinghamshire.
Major Rich Angove, 50, died at the scene when his car was in collision with a vehicle being followed by police on the A46 near Flintham, on 7 October.
Martin Casey, 26, of Golf Course Lane, had pleaded guilty at an earlier hearing at Nottingham Crown Court.
Judge Michael Stokes QC described Casey's driving as "utterly reckless".
Casey was thought to be driving his Mazda at about 80mph in a 40mph zone when drove in to the back of Maj Angove's Vauxhall Vectra, which then collided with a lorry.
Maj Angove, a husband and father of two young children, was returning to his home in Gloucestershire after attending his mother's funeral.
His family were not in court, but in a statement Maj Angove's wife said: "The kids will miss their daddy's hugs and kisses, these are now gone and will never be felt again."
The judge told Casey: "It's quite clear this man lost his life because you put your selfish interest before anyone else.
"You were driving in an utterly reckless manner... it was inevitable there would be an accident.
"There's no justice in the world when you survive and he dies."
Det Ch Insp Andrew Hall, head of Nottinghamshire Police's road crime unit, said: "This didn't need to happen. It was careless, reckless and outrageous driving on Nottinghamshire's roads."
Mr Hall said he believed Casey drove at speeds of up to 100mph during the hour-long pursuit.
"Unable to control his vehicle, he ultimately killed a thoroughly decent, respectable and honourable man," he said.
In court, Casey, who also admitted driving without insurance, apologised for what he had done before his sentencing.