Killer of Brendon Lawrence has appeal turned down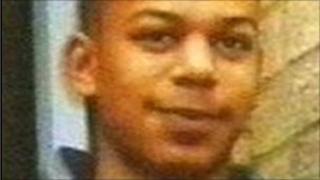 A man serving a life sentence for the "notorious" shooting of a teenager in Nottingham has failed in a bid to have his murder conviction overturned.
Rene Sarpong was jailed for life in March 2010 for killing 16-year-old Brendon Lawrence in 2002.
Sarpong, of Lamartine Street, St Ann's, had appealed, questioning the credibility of a key witness in the trial.
But judges at London's Criminal Appeal Court ruled the trial had been "fair".
DNA evidence
Mr Lawrence was shot four times as he sat in the passenger seat of his cousin's Ford Fiesta car in St Ann's in February 2002.
Sarpong was arrested the following year after DNA evidence linked him to the shooting.
However, it was a further three years before a key witness - a prostitute who had seen Sarpong and two other men on the night of the shooting - came forward to claim the murder weapon had been left under a bed in her flat.
Solicitors for Sarpong argued his conviction was unsafe because of the nearly eight-year delay between the murder and the trial and because the key witness was "not credible".
But dismissing the appeal, Lord Justice Moses said all of the arguments had been put before the jury and it was up to them to decide whether Sarpong was guilty.
He said: "There was, in our view, a fair trial. The jury had ample information on which it could assess the witness.
"The trial judge rightly identified, in his directions to the jury, the considerations they should give to the consequences for the defence of the delay."
Speaking after the judgement, the victim's father, Roy Lawrence, said: "I would sooner have my son here and not have had to do all this but I'm pleased with the result.
"It has been hard to have deal with this but hopefully now we can move on from here and just try to deal with life."