Retired meteorologist works on 'world's longest weather record'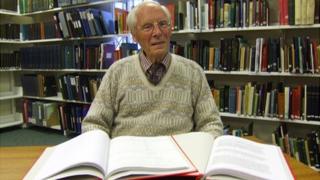 A retired meteorologist has spent 20 years producing what he believes is the world's lengthiest weather record - spanning two millennia.
Jim Rothwell, 80, from Southwell, has gathered data for central England, from 56BC to present day, using more than 40 different data sources.
The octogenarian said the labour of love would be of interest to anyone wanting to put historical events into a weather context.
"I wanted to make a historical record as close as I could to fact as I knew it," said Mr Rothwell, a weather forecaster for the Met Office for 38 years.
"It's very interesting to me. It's part of me. I remember what happened on any given day by the weather."
By painstakingly cross-checking sources he has managed to produce a climatic profile for each month back to 1659.
Between 1167 and 1659 Mr Rothwell has reports for each summer and winter but said the data prior to this was a bit more sporadic.
Sources have included published papers, university and council archives and history books.
"The records show that the warm weather in October that we have witnessed this year is not unique," said Mr Rothwell.
"All sorts of unusual weather has occurred during all the seasons in central England in the past."
The Central England Weather Series includes information about a famine in 1258, which killed 20,000 people, and a thunderstorm in the summer of 1588, which destroyed two Nottinghamshire towns.
Mr Rothwell said his personal interest in meteorology stemmed back to World War II.
"During the war weather reports were secret," he said.
"As a young boy I remember going to bed and being surprised to wake up to six inches of snow. I wanted to know why," he said.
His records have been donated to the Nottinghamshire County Council archives service and will eventually be given to to the national Met Office archives.
Until then, Mr Rothwell said he would continue to add to the collection.