Colette Aram murderer Paul Hutchinson died from overdose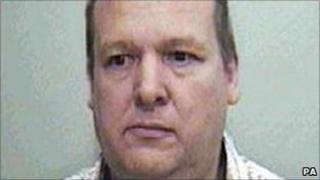 A Nottinghamshire schoolgirl's killer who evaded capture for more than 25 years committed suicide in prison, an inquest has ruled.
Paul Hutchinson, 52, of Gamston, took an overdose eight months after being jailed for murdering Colette Aram.
The inquest jury heard that Hutchinson, who killed his victim in 1983, had become increasingly depressed.
He died after being found unconscious in his cell at Nottingham Prison in October 2010.
His daughter, Hannah Hussein, told the inquest he became more and more depressed after his wife decided to divorce him.
No 'closure'
Hutchinson abducted 16-year-old Colette as she was walking to her boyfriend's house in Keyworth, bundling her into a stolen Ford Fiesta.
He sexually assaulted her then strangled her.
Hutchinson evaded arrest and remained in the area, where he wrote anonymous letters to police about the case.
Police used DNA on samples taken from the scene to track him down. He pleaded guilty at Nottingham Crown Court in December 2009 and was later jailed for a minimum of 25 years.
Hutchinson was taken off suicide watch before his death but no mental health professionals were present at the meeting where that decision was made.
Prison officials said they now made sure mental health professionals were present at such meetings.
Collette's uncle Michael Leighton said after the hearing in Nottingham that the ruling did not make her death any easier to bear.
Her mother Jacqui Kirkby said: "We are never ever going to get closure because we never got answers and we never will.
"He never showed any more remorse and he took the coward's way out."