Keith Vaz calls for openness over Peepul Centre sale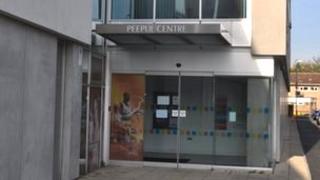 A Leicestershire MP has called for open discussions on the future of a community centre which he claims could be sold to a London-based charity.
Keith Vaz said Leicester Housing Association (LHA), owners of the Peepul Centre, had been holding talks with the Ethnic Minority Foundation.
LHA confirmed it was in discussion with a charity, but was not yet in a position to announce the details.
Mr Vaz, MP for Leicester East, said the centre's users needed to "know more".
He said: "The charity Ethnic Minority Foundation, which is the current organisation that's in discussions with LHA, has to work with the community if it's going to be successful.
"We want to know more to see what further steps we can take in order to make sure there's a permanence to this - nobody knows what going to happen in the future."
'Community consultation'
The £18m arts and education centre in Belgrave was funded by various organisations including East Midlands Development Agency, Leicester City Council, Sport England, the Millennium Commission and the Arts Council.
Matt Cooney, Chief Executive of LHA-ASRA Group, said: "I can confirm that LHA-ASRA is currently in negotiations with a charity with a view to it taking over the running of the Peepul Centre.
"When these negotiations are completed, we will be in a position to announce full details. In the meantime, we will continue to undertake consultation with the local community.
"I have today sent a detailed letter to Mr Vaz explaining the position and our proposals for the Peepul Centre moving forward."
The Ethnic Minority Foundation has not commented on whether it is involved in discussions over the centre.