Casey Brittle murder: IPCC criticises domestic abuse care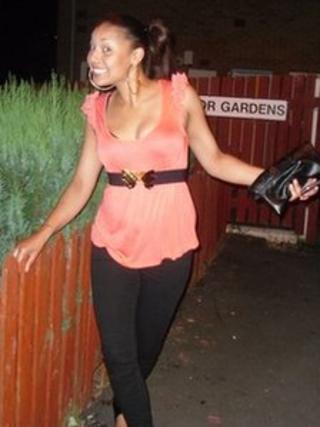 Nottinghamshire Police has been criticised for its handling of domestic abuse cases after the murder of a woman by her former partner.
Casey Brittle, 21, a mother-of-one, was found with head injuries at her house in New Basford, Nottingham, in 2010.
Sanchez Williams, 27, was given a life sentence for her murder.
The Independent Police Complaints Commission (IPCC) said officers did not take "positive action" and its domestic abuse unit was not kept informed.
'Lack of understanding'
Nottinghamshire Police said it unreservedly accepted the recommendations of the IPCC report, which highlighted systemic failures in the force's handling of domestic abuse cases.
The criticism comes after the force was previously warned about many of the same issues.
The investigation into events leading up to Ms Brittle's death found failures by officers in individual incidents.
Nottinghamshire Police responded to 11 calls from Ms Brittle between September 2008 and August 2010.
The police watchdog said officers had shown a lack of understanding of the force's domestic abuse policy and procedures, and bail conditions preventing contact with Ms Brittle had not been imposed on Williams.
The investigation found Nottinghamshire Police had not passed information on to its domestic abuse support unit, meaning it was not given a high enough priority.
Assistant Chief Constable Paul Broadbent, of Nottinghamshire Police, said he deeply regretted Casey's death and the circumstances surrounding it.
"There had been a history of domestic violence and abuse in Casey's life involving Williams.
"Whilst awaiting the IPCC's report, we took steps to completely revise our approach towards responding to, and identifying, incidents of domestic violence and abuse.
"This involved an overhaul of working practices, specifically in relation to the identification and management of the risks faced by victims," he said.
'Threatening behaviour'
In 2009 the IPCC published the findings of its investigation into how Nottinghamshire Police had responded to reports of domestic violence concerning Gail Hdili, who had seriously assaulted by a former partner and left blind in one eye.
IPCC Commissioner, Amerdeep Somal, said: "Casey Brittle was a young mother who was killed by a man well-known to local police for his propensity for violence and threatening behaviour.
"Her death is a tragedy for her friends and family.
"In this case it is clear that a number of officers failed to perform to the level expected of them and basic actions, that may have helped others see the full picture of her suffering, were not completed.
"These systemic failures are all the more horrifying because the force had previously been warned about many of the same issues following the horrific attack on Gail Hdili."
Casey's mother Victoria Blower said in a statement: "Our family will never forget the fantastic girl that lit up our lives with her gorgeous smile, and her silly sense of humour that still lives on in her little girl.
"Maybe one small change in the way things were handled could have saved her, or maybe Sanchez Williams was a time bomb just waiting to explode and nothing that anybody could have said or done was ever going to prevent him from murdering Casey.
"My greatest hope is that lessons will be learned from what happened to my daughter and that another parent whose daughter is at risk will not have to endure what my family and I have had to.
"Violence against anyone is not acceptable and should not be tolerated, especially when it is a man using his power and strength against a woman."