Mansfield may see brewery return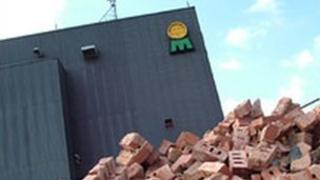 Brewing could return to a Nottinghamshire town as part of regeneration proposals being looked at by the district council.
Mansfield Brewery closed in 2001 and the site has been derelict since then.
Ron Kirk, the brewery's former managing director, has put forward plans to bring back a beer production plant and a 100-seater restaurant on the site.
The plans for the former brewery at Littleworth also include a visitor centre and a convenience shop.
A culinary academy, where students can learn about the food industry, is also planned to be built on the site along with accommodation for students.
Mr Kirk said: "We've got a private investor who is interested in putting a brewery and restaurant into Mansfield. He's willing to do that providing we come up with the right sort of scheme which we're confident of doing.
"We'd be allowing students at the institute for the culinary arts to experience hands-on how a brewery and restaurant works."
Business starter units and a childcare centre have also been suggested as part of the proposals.
The derelict brewery building was demolished in 2008 after becoming a target for vandals and thieves.